MyData Online 2020 Conference is the 5th edition (revisit also the 2016, 2017, 2018 & 2019 content of the leading global conference about personal data management. The conference will bring together stakeholders representing business, legal, tech, and society to share, discuss and showcase actionable solutions for MyData: the ethical use of personal data. Read more about the vision of MyData and MyData Global's Theory of Change!
What is MyData Online 2020 about?
The overarching topic for this year's conference is "Radical collaboration for designing the new normal".
The past year has highlighted many of the strengths and weaknesses as well as opportunities and threats about the current use of personal data and our capacity to empower individuals and societies with personal data.
This has created the momentum to bring change to the current approach to the way personal data is used, and work towards making transparency and human-centricity the new normal in data practices and policies.
We want to accelerate change towards a fair, sustainable, and prosperous digital society, where the sharing of personal data is based on trust as well as balanced and fair relationships between individuals, communities and organisations.
MyData Online 2020 Conference is the place to collaborate and "make it happen, make it right"!
How the programme is built
PROGRAMME TEAM
MyData Online 2020 Conference programme is organised by MyData Global together with the members of the MyData community, a diverse group of experts active in the personal data ecosystem, all driven to address challenges and opportunities around the current state of personal data management.
The team is focused on designing the overall structure and processes of the programme and take extra care of the invited contributions from the world's leading experts.
COMMUNITY-CURATED
CONTENT
The main programme of the conference is content submitted through the Call for Proposals open from 30 July to 6 September.
Check out the full timeline below.
The key novelty this year compared to previous MyData conferences is that submitters are asked to design and propose a full session or series of sessions for the conference.
DEMO LOUNGE &
SOCIAL EVENTS
In addition to the centrally and community-curated programme, the conference also includes a demo lounge to showcase unique services or tech solutions to the audience around the world.
Furthermore, we make sure the conference will not only benefit the participants professionally, but will be as fun and social as it would be at a physical event.
Stay tuned for further details about the social events!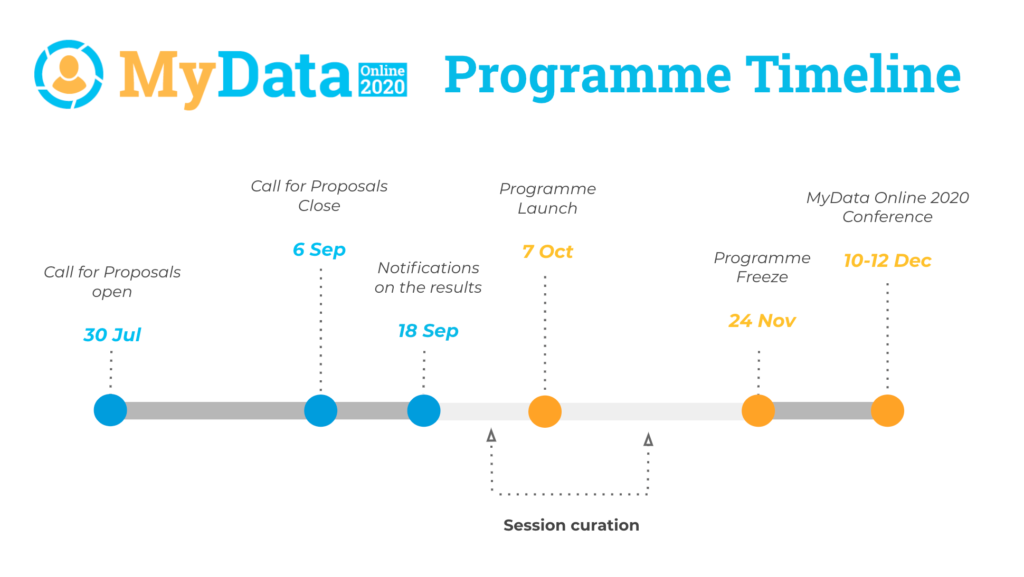 Conference structure
This year's MyData conference is even more global and inclusive than ever before. With that, we will cover as many time zones as possible and have designed the programme to run over 16 hours each day.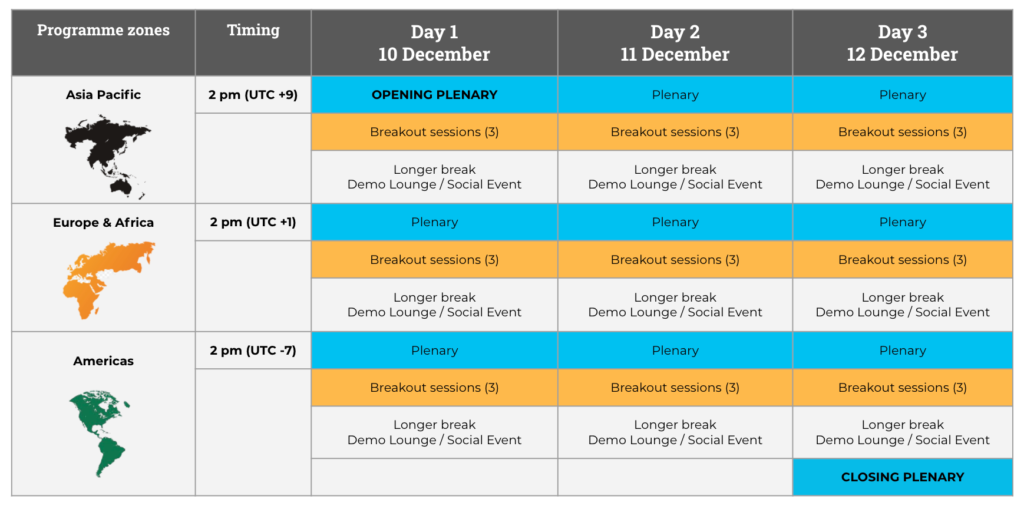 Call for proposals open from 30 July to 6 September