Don't miss the Grand Finale MyData Online 2020 – a concert live from Portugal 
"Portuguese singer-songwriter and multi-instrumentalist Marta Duarte d'Almeida calls the world her musical home. Her astonishing instrumentalism and charismatic voice take her audiences into a magical world of jazzy swing and Portuguese folk, and storytelling filled with energy and emotions.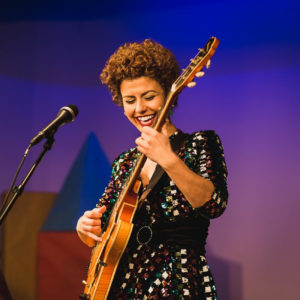 Her singularity as a guitar player can be seen in her intuition and in her technique, and her singing purpose is revealed in every note that echoes from her guitar". Media de Rock and Açoriano Oriental, 2019
At MyData Online 2020 Marta will play the songs of good, positive vibe to bring us joy and to close the 2020 on a good note.
The concert starts on Saturday 12 Dec at 20:00 UTC in the Social Event room in Qiqo.
Marta: "I find it incredibly matching the times that I can join the MyData Conference through an online concert! Even with social distancing we don't have to be apart. One of the best ways to be together and share emotions is with music. Music is the art of the encounter and brings us all together!"
Remember to click the green button "Connect to Audio & Video" on the top right of the room to activate the Zoom connection and chat with the other participants while listening to the music.
The networking break during the concert will befacilitated by Daša Švaikovskaja.