Join us for the unforgettable show with the DJ and visual artist Ray Arkaei.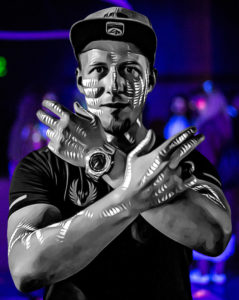 Arkaei is an audio-visual artist with a passionate drive towards achieving complete technological overkill in his performances – always with a smile 🙂
As the co-founder of Berlin's Sample Music Festival, his mission is to provide a uniquely diverse, international platform for like-minded nerds, fostering organic exchange of knowledge and promoting the exploration of avant-garde methods among digital creatives.
He's also the resident artist of Øredev and the Biohacker Summit with several guest appearances at festivals like Fusion or Nokta, as well as various conferences and hackathons around Europe… and thoroughly dislikes writing about himself in 3rd person, but makes fantastic coffee.
The show starts on Fri-Sat night 11 Dec at 00:30 UTC in the Social Event room in Qiqo.
More about Arkaei:
Website: arkaei.com
instagram.com/arkaei
youtube.com/arkaei
twitch.tv/unrealDJing
Remember to click the green button "Connect to Audio & Video" on the top right of the room to activate the Zoom connection and chat with the other participants while listening to the music.