On Thursday, 10 December, we celebrate the International Human Rights Day.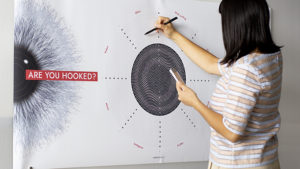 On this occasion, Tactical Tech, an international NGO that engages with citizens and civil-society organisations to explore and mitigate the impacts of technology on society, organises a social event around The Glass Room – Virtual Exhibition on Misinformation.
In this exhibition we will explore how social media and the web have changed the way we read information and react to it. Learn why finding "fake news" is not as easy as it sounds, and how the term "fake news" is as much a problem as the news itself. You can dive into the world of deep fakes, which are now so realistic, they are virtually impossible to detect. You can find out how social media platforms are designed to keep us hooked and how they can be used to change our minds.
All participants will have a chance to check if they "are hooked" = how much time they spend on social media and what it actually means. This "Are You Hooked" interactive diagram will be displayed online and people will be able to add information on their own usage of their mobile phones. It is way to begin thinking about if one would want to incorporate well-being practices into their daily usage. Privacy is paramount and we do not collect anyone's information.
Visit the Virtual Exhibition here.