The Call for Proposals is now closed! If you didn't manage to submit your proposal by the due date on 6 September, get in touch with the programme lead at sille (at) mydata.org.
The main programme of the conference is content submitted through this Call for Proposals. The key novelty this year compared to previous MyData conferences is that submitters are asked to propose a full session (90 min) or series of sessions to the conference.
If you have a presentation or a shorter proposal in mind, share your idea in the #conference-programme Slack channel (you can get access to Slack at mydata.org/slack), where you can look for and/or be guided to collaborate with other interested people to put together a proposal for a full session. Great ideas, no matter how big or small, will find support to make them happen!
Check out the important dates below.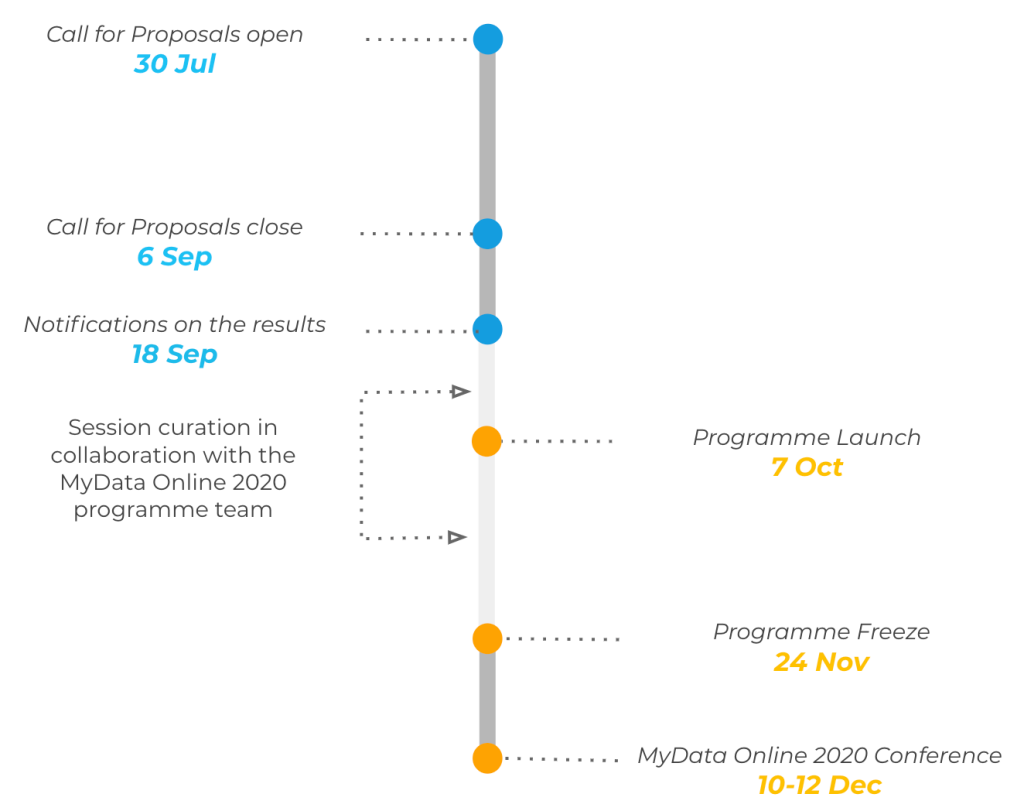 The Call for Proposals is now closed! If you didn't manage to submit your proposal by the due date on 6 September, get in touch with the programme lead at sille (at) mydata.org.
Please note!
After the call ends on 6 September, all submissions will be reviewed twice by our programme stewards.
Notification of acceptance will be sent out by 18 September.
While you don't need to confirm all details for the session(s) at the time of the submission, providing a concrete lineup of presenters and a plan for the implementation of the session(s) can help distinguish your proposal from other similar proposals, and hold significant weight in our evaluation process.
We might accept the proposals in its original form, while we might also recommend specific changes to strengthen the session and support you and others in the session team to reach your indicated goal. If you need support in some specific part of the session curation, you can also indicate that in your submission.
All accepted proposals will be supported by a dedicated programme team member to ensure continuity and coherence of the overall programme. So expect to work with us closely as we prepare the programme for success!
Before submitting your proposal, make sure you've acknowledged and carefully considered these important aspects about the programme!
Identify your conference story
MyData Online 2020 conference takes place in order to accelerate change towards a fair, sustainable, and prosperous digital society. This is a place to share and learn from each other's valuable insights and contributions, find answers to difficult questions and collaborate to "make it happen, make it right"!"
While the programme is built upon unique contributions, it's important to establish a common ground and shared language that will foster better understanding among each other. This is why the conference will be developed around stories from the bigger narrative of MyData – human-centric approach to personal data.
Is your conference story about increasing fairness, sustainability, or prosperity in the new normal of digital societies?
Are you working specifically towards making formal rights actionable, empowering people and communities,or opening up ecosystems of personal data? Tell us a story about how you do that!
Are you addressing one of the great challenges facing the globe today through your work with personal data – advancing the Sustainable Development Goals, combating climate crisis, addressing the COVID-19 pandemic, fighting for racial justice, addressing the ethical issues arising from increased use of AI and ML systems across society? Describe in MyData terms how your approach contributes to these.
Below you find a collection of themes with short descriptions and further references that help you design your MyData Online 2020 conference story. Make sure to reference at least one of these in your session proposal, and elaborate what are the main concepts you will be addressing with your session.
Conference design principles
To support us in reaching the goals of the conference, we are dedicated to four principles that will guide us collectively in the programme development as well as other areas of the conference.
(click/tap on the + sign to read more)
RELEVANT

You provide value because you address important and actual issues in a clear and well articulated way.

You synthesize and develop the understanding of the key issues around the topic you address

You avoid "preaching to the choir" and aim to inspire others to collectively strive towards better ways of solving the issues we all recognise according to the values we all share.

DIVERSITY BY DESIGN

Issues around personal data are complex and multidimensional, and hence, must be approached from multiple perspectives, with reference to specific topics, by people from varied backgrounds, in very different ways.

You take diversity as an inherent principle when designing your session (incl presenters profile, perspectives, and formats)

See the different layers of diversity from below.

Voices

We are especially seeking submissions from

traditionally underrepresented groups

and

different areas of expertise

.  Engaging a diversity of voices is a requirement to enable better and more creative problem solving.

Our goals:

Gender (male, female, other): max. 60% male

Geography (Europe, North America, South America, Africa, Asia, Oceania): each continent represented & max. 50% Europe

Perspectives

The issues surrounding personal data today, very broadly speaking, can be viewed from

business, legal, tech, and societal perspectives

.

 

We ask that all submissions indicate 1-2 perspectives which are most relevant to their approach.

You'll find descriptions of the different perspectives and some concepts to explore from each perspective from the

linked slidedeck

above.

Our goal: #business, #legal, #tech, #society: min. 20% each

Content Detail

We want the programme to engage with the diversity of audiences that converge at MyData Online 2020. To facilitate this, we're asking all submissions to indicate the

level of detail

which they will involve. This is to aid the audience in judging what content is most relevant to them.

We give descriptions of the labels used below.

Our goal: General, Mid-level, Detailed content: min. 25% each

Originality of format

Finally, we will prioritise variety and originality in the

format

of submissions. 

We encourage submissions to

include audience engagement to work together

towards finding new solutions, even if we're engaging online. If you're unsure how to make an online session interactive, indicate that in your submission. The programme team will support you in refining your session format, if accepted.

We describe below a set of different formats which encourage this interaction and quality of collaboration and highly recommend that all submitters pick one of those formats or propose their own.

Our goal: Interactive & participatory; Short &  inspiring; Traditional & insightful: min. 25% each

SOLUTION-ORIENTED THROUGH COLLABORATION

You don't stop at pointing out problems, rather proactively seek and develop solutions and alternatives.

You don't merely proclaim your solution(s), you engage the fellow presenters and conference attendees to learn and work together

Especially welcome are well thought out submissions that include hands-on working and co-creation of solutions.

PEOPLE FIRST

You focus on interaction among many and avoid cult of the leader

You tap into the enormous pool of talent and experience of the audience by inviting them to participate actively in your session.
What is the GOAL & FORMAT of your session?
What aspect of human-centric personal data is your planned session trying to bring forward? What is the main message that you wish to leave the attendees with? Clarifying the goal for your session will support you in choosing an appropriate and effective format as well as help you reach shared understanding about the intended outcome among your fellows in the session team and audience.
There are multiple ways for goal-setting
(click/tap on the + sign to read more)
You focus on issues that need solving

You wish to dive deeper to the challenges and threats of a certain topic, map the possible concerns or define the core problem.

With that, your session goal could be:

To assess the situation

To raise awareness about the topic

To achieve better understanding between different viewpoints/stakeholders

To get feedback and advice from relevant stakeholders

To build strategic collaboration with relevant stakeholders to tackle the presented problem

PS! As one of the conference design principles is "solution-oriented through collaboration" – make sure to think and elaborate in your proposal how focusing on (your chosen) issue helps you and the audience move towards identifying solutions for that! 

Your focus is on objectives

You wish to find and agree on a vision, goal or set priorities (the premise is here that the core problems of the issue have already been defined).

With that, your session goal could be:

To find solutions and/or develop a vision

To develop a strategy

To get feedback to the chosen focuses or even more, to the predefined vision

To achieve understanding and acceptance of relevant stakeholders with the pre-defined vision

To identify common interests

To find and make new connections with relevant stakeholders, or even more mobilise them to the achievement of a common goal

Your focus is on collective learning

You wish to collect (and/or share) further information and experiences. This supposes that you have already defined the problem and objective how to tackle it, but you either still lack some information, or you'd need feedback from others.

With that, your session goal could be:

To test your ideas or solutions with the conference attendees

To get feedback to a particular aspect of your concept (eg identify strengths, weaknesses, opportunities and threats)

To raise awareness and align relevant stakeholders with a proposed solution, idea, model etc.
Session formats
Once you've defined the goal of your session, you can plan how you're going to run the session. We kindly ask you to shortly describe the intended flow of your session in your submission.
Different types of session formats are grouped roughly based on the style of content. The length of each format described below is indicative, and you are welcome to suggest a different time frame for your submission (be sure to indicate this in your description). Please note that you can include multiple different formats (including formats not listed here) for the full duration of the session (90 min).
(click/tap on the + sign to read more)
INTERACTIVE & PARTICIPATORY
Strategic roundtable

Length: 1h 15min

If you'd like to submit a session that aims to identify problems and seek solutions and next steps for a variety of stakeholders, then roundtables are great format for you.

A roundtable doesn't have a leader as such, but you as a submitter will facilitate the conversation and ensure maintained focus on your proposed topic.

Some great ground rules for facilitating a roundtable discussion can be found here .

Hands-on workshop

Length: 3h

Well-prepared and goal-oriented hands-on workshop in which knowledge on a specific topic is communicated or specific skills are mediated.

A great workshop has a tangible output that can be showcased to other conference attendees and audiences afterwards.

Meetup

Length: 1h 15min or 3h

A networking meeting of like-minded participants on a predefined topic.

There can be a short presentation to steer the focus of people, while the majority of the meetup's content is self-organised.
SHORT & INSPIRING INPUT
Demo

Length: 10+5min

If you want to bring something —  a service, interactive poster, a tech solution, something else you built — to show to the conference audience and get input, the demo format is for you.

Describe what you are demoing and especially the kinds of input you want to receive from your audience.

Lightning talk

Length: 5min

A short pitch about a topic, idea, project, or product.

If your aim is to raise people's interest and let others find you for further discussions, submit a proposal for a lightning talk.

Fireside chat

Length: 20min

A fireside chat is either an in-depth interview with an expert and an interviewer, or a dialogue between two perspectives on the same issue.

Do you admire someone and think that others would benefit from their insights too? Propose to interview them at a fireside chat! Do you think you could mutually learn with an expert in a different discipline from yours? Propose a dialogue as a fireside chat! (Hint: we can help finding you a sparring partner!)

All fireside chats at MyData also involve questions from the audience.

Some great tips for planning your fireside chat can be found here.

Artistic installation / performance

Length: Suggest your timeframe

Communicating complex issues through various artistic means is an effective way to get your point across, to make people think, and to engage with your project.

Do you visualise personal data? Create interactive installations that highlight how personal data can work? Have you written a poem about the current state of the data economy? Do you have speculative fiction in some medium that addresses issues of personal data?

Bring your art for all the world to see at MyData!
TRADITIONAL & INSIGHTFUL
Full session/panel

Length: 1h 15min

Balanced and thoughtful discussion by experts on a specific topic.

Be sure to describe how your panel or session takes advantage of the deep expertise present in the audience and engages with them.

When planning your session or panel submission, also consider the diversity goals for the conference mentioned above.

Short or long presentation

Length: Short 10+5min 

Length: Long 20+10min

A high-quality presentation on a defined topic.

If you decide to submit a traditional presentation, take a moment to plan and describe how you engage with experts and peers in the audience.

A poll before and after the session? An original concept for the Q&A? Some other way to make sure your audience can participate?
Levels of content detail
Depending on the goal and format of your session as well as your expected target audience, we recommend you to define the level of content detail you will be providing during the session. This has two purposes:
It helps you design a conference story that is understandable to the audience
Indicating the level of detail later in the conference programme page will guide the audience to find the right fit for their expertise and interest. This is why we will also ask all submitters to indicate the level of detail in the Call for Proposal form.
We welcome contributions which fit into three broad levels of content detail.
(click/tap on the + sign to read more)
General

General level, audience-agnostic talk that will appeal to people who are approaching the topic for the first time or have a general interest in the issues. Avoids the use of jargon or introduces terms to laypeople.

Mid-level

Appealing to an audience with some experience with or keen to deepen their expertise of the topic. Assumes general familiarity with the key terms and concepts.

Detailed

Specialised content including technical aspects appealing to those with deep expertise on the topic or those keen to extend their existing knowledge. Assumes familiarity with the relevant technical terminology.
Last but not least, this checklist will support you plan ahead when designing your session proposal.
I have identified my conference story and described in my proposal how it's tied to the bigger MyData narrative with references to at least one of the key themes
I design the session with the conference design principles in mind
My session has a goal and I have described it in my proposal
I have identified the most suitable format(s) for my session
I have identified the level of content detail of my session
I have confirmed the participation of my session host and presenters (not mandatory but providing a concrete lineup of presenters and a session host can help distinguish your session from similar proposals, and hold significant weight in our evaluation process)
I have checked my proposal for any errors, inaccuracies, or spelling mistakes
We're excited to hear your MyData Online 2020 conference story!
Share the news about the Call for Proposals with those who you want to see presenting at the conference!
For the purpose of programme curation, all information about your proposal, excluding your contact email, will be added to a public Trello board: MyData Online 2020 Programme Trello.
The Call for Proposals is now closed! If you didn't manage to submit your proposal by the due date on 6 September, get in touch with the programme lead at sille (at) mydata.org.
Questions?
Contact conference[at]mydata.org