For more than 30 years esatus has been successful in software development and IT operations and is an expert in IT Security, IAM and GRC solutions. We are strong supporters of de-centralized self-sovereign identity and have developed an SSI solutions suite including a comprehensive institutional agent with rich IAM capabilities and a dedicated wallet app.
This solution, allowing easy integration into existing corporate infrastructures, has obtained MyData Operator status.
esatus fully shares MyData's human-centric approach to personal data and digitization in general. We agree that for a safe work and private life in the digital sphere this has to be underpinned by humane ethical standards. The conference is a great place for meeting peers who think alike, for exchanging information and exploring collaboration and business opportunities.
Website: esatus.com
Twitter: @esatusag
Partner interview
We are looking forward to getting in touch with the global community, starting lively discussions, inspiring others and getting feed-back and inspiration ourselves.

– André Kudra, CIO of esatus AG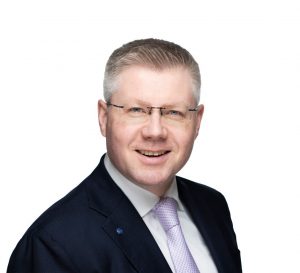 What will your MyData Online 2020 presentation be about?
"SSI in action: Real-World Use Cases". We will share our experiences in getting SSI up and running, and we will invite the audience to share theirs. By means of active and lively breakout sessions we hope to generate new and creative ideas on SSI use cases.
We will also be co-hosting the session "Making Data Literacy Happen!"
Why did you decide to partner with this unique conference? What's the added value?
To say it in one word, quoting myself, because " …it is the gold standard of conferences!" We have been a partner since 2017 and are happy to support a non-profit organization such as MyData in organizing a high-quality, international conference and networking event. This helps to ensure that MyData remains an independent organization bringing together out-of-the box thinkers.
As a partner, we are able to promote our SSI solutions actively during dedicated sessions, thus encouraging others to join us in rolling SSI out to a broader audience. We are also excited to have our own virtual booth which we can design specifically in line with our messages. Furthermore we get high visibility, also thanks to MyData's excellent communications tools.
What are you looking forward to most about the conference?
Getting in touch with the global community, starting lively discussions, inspiring others and getting feed-back and inspiration ourselves.
What do you see as the biggest challenge in the digitization?
To my mind the biggest challenge is to ensure user self-sovereignty. #SSI will help us leaving the dark side of data behind and pave the way towards an enlightened, secure, and easily accessible digital world.
Partner sessions