– 10 ways to your successful participation in MyData Online 2020 Conference
The virtual venue for MyData Online 2020 is Qiqo Chat. Qiqo is a "social wrapper" around Zoom. It allows you to move around, join sessions and connect with people on formal and informal occasions.
Qiqo has been used with success by e.g. Internet Identity Workshop community, hosting two great events in Spring and Autumn 2020. Those who have had a good experience with Qiqo, love it. Hopefully you will share this love. However, we are aware that – like with every tool used for the first time – there can be a bit of a learning curve.
Depending on your preference, you can keep a low profile and only attend sessions, or you can go "all-out" to meet, network, discuss, connect, and have fun. No matter what your feel of the day is, we hope that the tips below will help you to get the full benefit from Qiqo.
Video tutorial 1/2 and tips in a written format below
Step 1.
All registered participants receive a personalised link to the virtual venue. The link will be sent to the email address used in the registration. Note that the message can land in your spam. Retrieve it and save it – it's your ticket to the venue! If nothing came, contact reset@qiqochat.com -> the link will be resent to you.
Step 2.
As soon as you receive the link – enter the venue to set up your profile. Log in with the same email address you provided in the registration.
Add your picture and answer the simple questions about your professional background and interests. This is your conference badge, which will help others to identify and connect with you. Don't wait till the last minute to create the profile.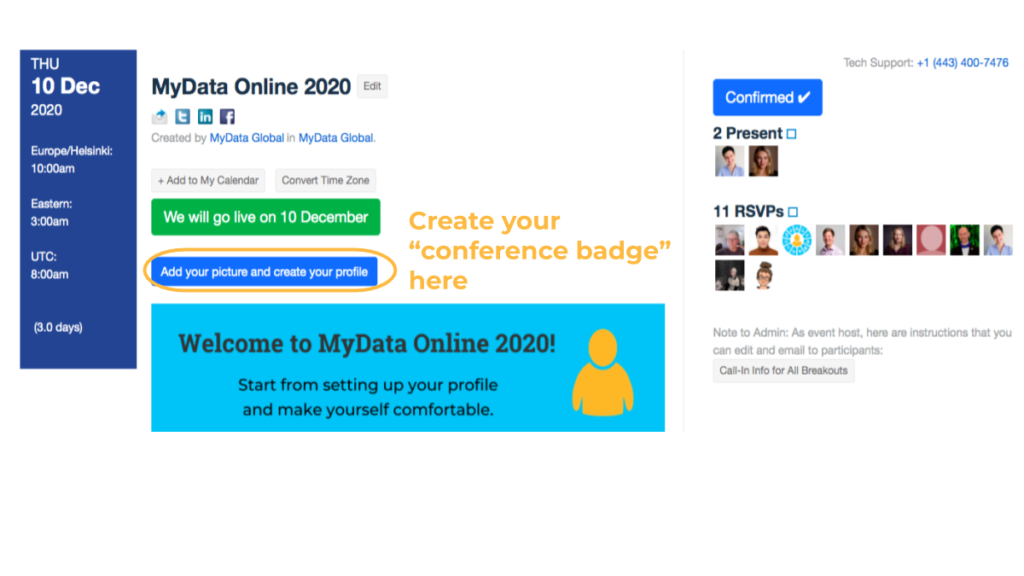 Step 3.
Remember that Qiqo is more than a webinar platform – it's the whole Virtual Venue with multiple rooms, chat rooms, relaxation spaces, partner booths and gardens. Similar to a regular conference venue, you will need some time and navigation advice to find your way. Read the instructions posted in the Lobby and Help Desk.
Step 4.
You will be able to connect with the fellow participants in multiple ways:
Via Rocket.Chat or 1-2-1 chat, connecting you directly with the person you want to talk to,
By messaging a person by clicking on "Email this participant" in their profile,
In Chat Rooms, based on the Spatial Chat app – there you will create an avatar and move around to meet and talk with other people: just like in a physical conference.
During the Social Events either by doing yoga together, taking a walk with your colleagues or by participating in the Speech Karaoke or MyData Trivia,
In the Gardens, which are more informal social spaces which you can use any way you want. Read more on the Gardens in point 5.
Step 5.
If you want to get some fresh air, visit the Gardens!
You can choose from 20+ spaces free to explore at any time. In The Gardens, named after MyData Hubs, you can do whatever you want. Choose a Garden – Set the topic – Have a conversation – drop in anytime!
You can set a topic and see who joins, have a private meeting, host a lunch meetup or a dance party. You decide, it's your space.
We recommend using the Gardens for networking and "hanging out together" – something we often miss at online events.
You can let the others know about your plans via Rocket.Chat or posting a note in the Conference Board in the Lobby.
Video tutorial 2/2 and tips in a written format below
Step 6.
All rooms of the venue, incl. session rooms for the day are listed on the left side of the screen.
You can enter each of the rooms freely at any time by clicking on its name.
Check the "Welcome" tab in each room to learn more about its content and programme.
If you want to join the discussion in the room, click the green button "Join Video" on the top. This will open a Zoom window. On Zoom, you can talk, chat, share your screen and do everything that Zoom allows.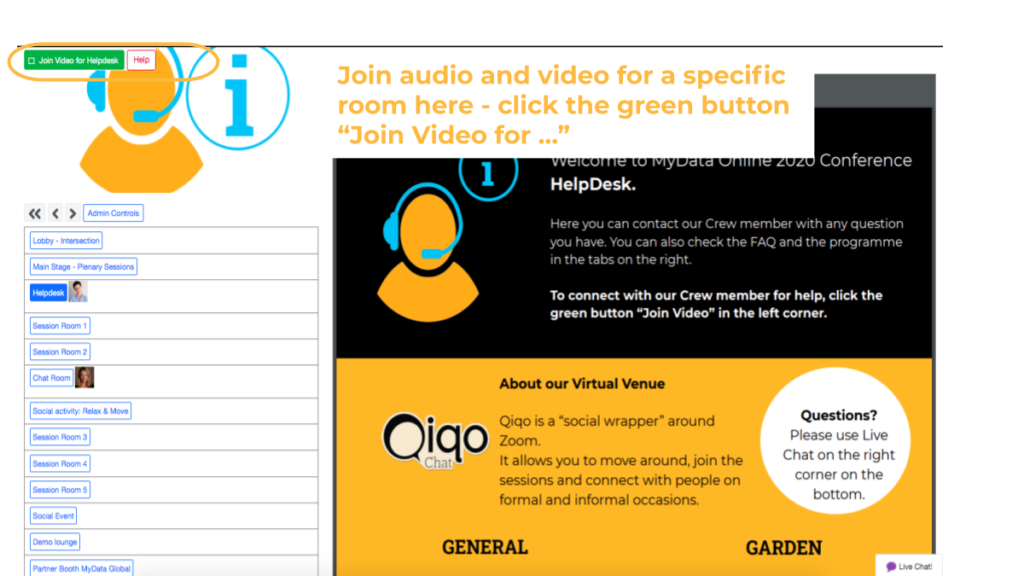 Remember: you will have two screens open at the same time – one for Zoom, one for Qiqo. You can shrink the Zoom screen to see more of Qiqo.
Don't forget to explore the whole room you entered – there are materials in the tabs for you to read and enjoy!
To move to another conversation, drop out from one Zoom call and connect to the one attached to the room you want to visit next.
Step 7.
Arrive early to find your way to the session you host, speak at or want to visit. Don't be afraid to visit the chat rooms, gardens or social events. They are there for you!
Step 8.
Get to know our Partners by visiting the Partner Booths. You will find them on the list of the rooms on the left. Open 24/7, many offer special programme and open hours for discussions. The Partners' Programme will be published in the Partners' Pages and in the Programme site.
Step 9.
If you have a question or a problem, look for help at the Helpdesk or in the LiveChat on the bottom left of your screen.
Step 10.
And last but not least, block the time in your calendar to fully indulge in MyData Online 2020 experience. This way you will be able to benefit fully from all the content and fun provided.
Join the pre-event on Monday 30th November!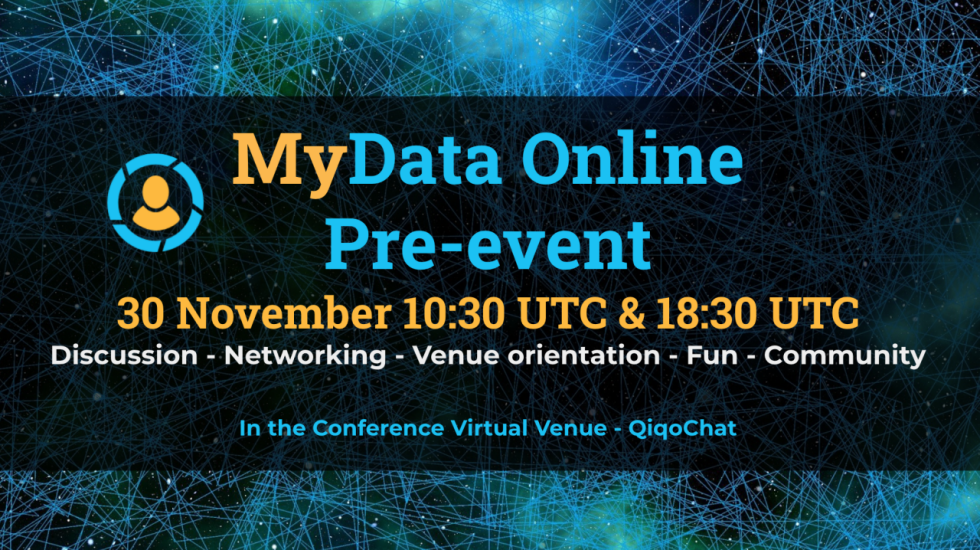 You can try all this at the conference pre-events on 30 November at 10:30 UTC and 18:30 UTC, organised in Qiqo. More information and programme coming soon. Please note that the pre-events are available only to the participants who bought or claimed their ticket to MyData Online 2020. If you don't have your ticket yet, get it now on online2020.mydata.org/tickets
We hope that all this will allow you to enjoy the conference, and make it your professional and social highlight of the year! If you have any trouble, join MyData Slack #mydata-online-2020-conference channel or send your email to conference@mydata.org