triv·i·a  
(trĭv′ē-ə)
1.
Miscellaneous
facts,
especially
when
the
subject
 of 
questions
 in 
games
and
quizzes.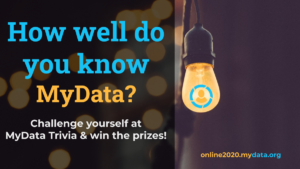 MyData Trivia
When was MyData born?
Who is the star of punk rock at MyData?
What's the newest MyData Hub?
How many slack channels there are?
You know all this and more? Or maybe MyData is very new to you and you have no idea what we are talking about?
It does not matter – everyone is welcome to MyData Trivia – a light, fun and easy to access quiz at MyData Online 2020!
You don't need any special preparation but if you want to know more about MyData, check our website.
The Trivia will be hosted by MyData Global veterans and friends, Viivi Lähteenoja and Esko Reinikainen.
Join, have fun and win the prizes! 🙂
HOW TO JOIN?
Go to the Social Event Room Trivia in Qiqo and click the green button "Join Audio and Video". You will find it in the left corner, on the top.
The quiz will use the instant polling app Mentimeter. You can access it from your browser or via phone. Follow the instructions from the moderator and have fun! 🙂